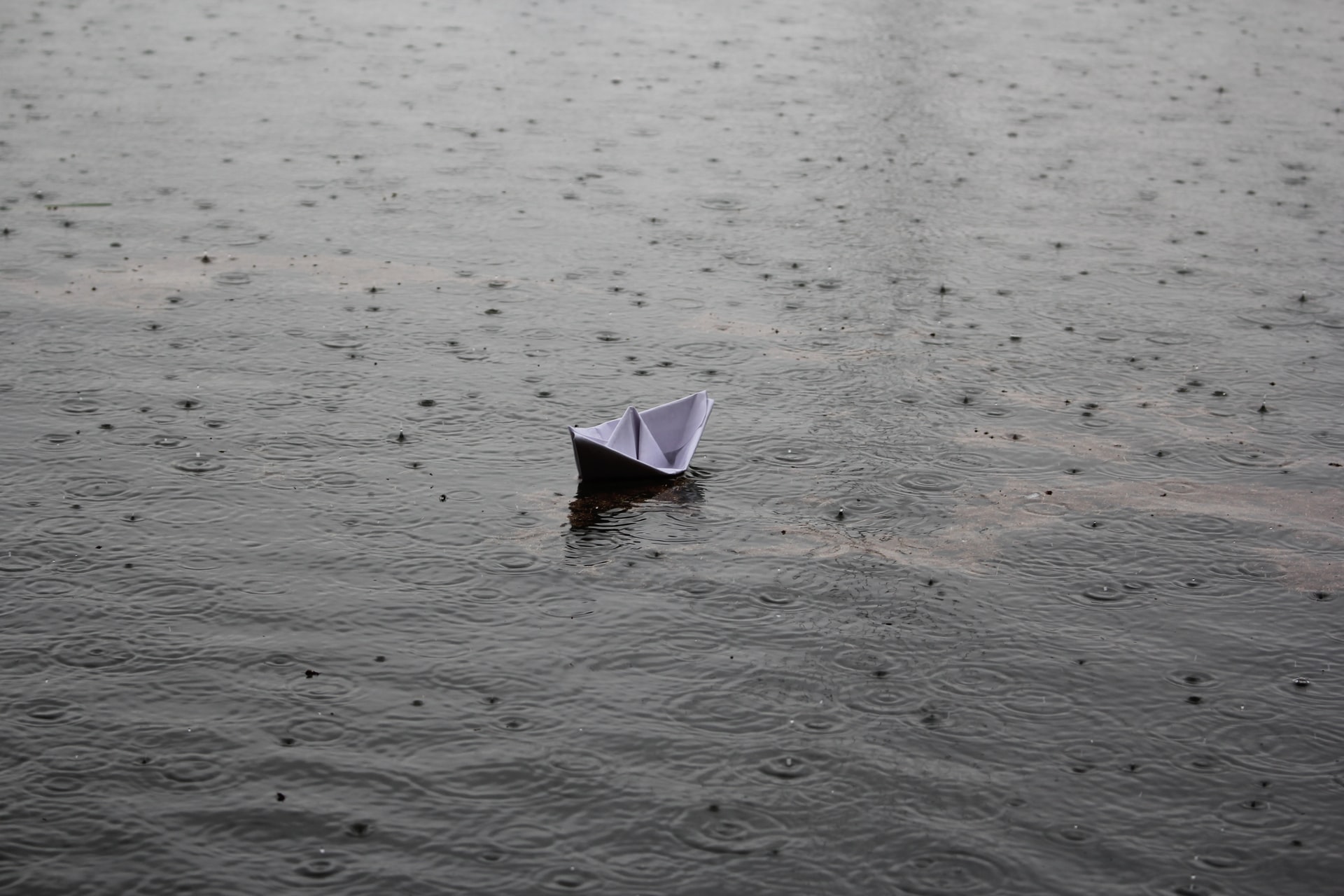 Rain is one terribly beautiful and beautifully terrible part of nature. It's like life; surprising, uncertain, an enduring discomfort that can become horrible or pleasant depending on the mood.  
Rain does not wait for our mood (like in movies for e.g.) and yet it brings its own moods when it comes. Rain is a part of life so like life in giving us a sense of safety and protection in a shelter and a sense of vulnerability out in the open.
It is the saga of life played in an hour or days with no surety of where the wheel will turn.
Does rain teach us something?
Some wise man might say it does or maybe it is just noise and we make meanings of it out of boredom. Who knows?
As with anything else people experience rain in different ways. For some each drop of rain is unique and different and yet for others, all rain is the same.  
Here are a few quotes about rain that I hope you will enjoy.  
"The summer sun was not meant for boys like me. Boys like me belonged to the rain."
― Benjamin Alire Sáenz, Aristotle and Dante Discover the Secrets of the Universe
"I always like walking in the rain, so no one can see me crying."
― Charlie Chaplin
"The rain to the wind said,
You push and I'll pelt.'
They so smote the garden bed
That the flowers actually knelt,
And lay lodged--though not dead.
I know how the flowers felt."
― Robert Frost
"Life isn't about waiting for the storm to pass...It's about learning to dance in the rain."
― Vivian Greene
"Do not be angry with the rain; it simply does not know how to fall upwards."
― Vladimir Nabokov
"On the fifth day, which was a Sunday, it rained very hard. I like it when it rains hard. It sounds like white noise everywhere, which is like silence but not empty."
― Mark Haddon, The Curious Incident of the Dog in the Night-Time
"Rainy days should be spent at home with a cup of tea and a good book."
― Bill Watterson, The Calvin and Hobbes Tenth Anniversary Book
"Are the days of winter sunshine just as sad for you, too? When it is misty, in the evenings, and I am out walking by myself, it seems to me that the rain is falling through my heart and causing it to crumble into ruins."
― Gustave Flaubert, November
"Love like rain, can nourish from above, drenching couples with a soaking joy. But sometimes under the angry heat of life, love dries on the surface and must nourish from below, tending to its roots keeping itself alive."
― Paulo Coelho, By the River Piedra I Sat Down and Wept
"Being soaked alone is cold. Being soaked with your best friend is an adventure."
― Emily Wing Smith, Back When You Were Easier to Love
"Some people walk in the rain, others just get wet."
― Roger Miller
"It didn't rain for you, maybe, but it always rains for me. The sky shatters and rains shards of glass."
― Tablo, Pieces of You
"They call this war a cloud over the land. But they made the weather and then they stand in the rain and say 'Shit, it's raining!"
― Charles Frazier, Cold Mountain
"The richness of the rain made me feel safe and protected; I have always considered the rain to be healing—a blanket—the comfort of a friend. Without at least some rain in any given day, or at least a cloud or two on the horizon, I feel overwhelmed by the information of sunlight and yearn for the vital, muffling gift of falling water."
― Douglas Coupland, Life After God
"Rain makes me feel less alone. All rain is, is a cloud- falling apart, and pouring its shattered pieces down on top of you. It makes me feel good to know I'm not the only thing that falls apart . It makes me feel better to know other things in nature can shatter."
― Lone Alaskan Gypsy
"...I don't just wish you rain, Beloved - I wish you the beauty of storms..."
― John Geddes, A Familiar Rain
"After the rain, the sun will reappear.
There is life. After the pain, the joy will still be here."
― Walt Disney Company
"You can dance in the storm. Don't wait for the rain to be over before because it might take too long. You can can do it now. Wherever you are, right now, you can start, right now; this very moment."
― Israelmore Ayivor
"The unwelcome November rain had perversely stolen the day's last hour and pawned it with that ancient fence, the night."
― F. Scott Fitzgerald, This Side of Paradise
"Look at the rain long enough, with no thoughts in your head, and you gradually feel your body falling loose, shaking free of the world of reality. Rain has the power to hypnotize."
― Haruki Murakami, South of the Border, West of the Sun
"From where we stand the rain seems random. If we could stand somewhere else, we would see the order in it."
― Tony Hillerman, Coyote Waits
"sometimes i don't know, which moment
which cool gust of wind will come,
and enchant me
tousling my hair
and my heart,

stirring...that familiar ache of poetry,

which drop will kiss
the old wrench in my soul
reminding me, all over again

i miss you better in the rain."
― Sanober Khan, A Thousand Flamingos
"Eyes so young, so full of pain ... Two lonely drops of winter rain ... And no tear could these eyes sustain ... For too much had they seen."
― Shaun Hick
"The only noise now was the rain, pattering softly with the magnificent indifference of nature for the tangled passions of humans."
― Sherwood Smith
"Rain drops are not the ones who bring the clouds."
― Sorin Cerin, Wisdom Collection: The Book of Wisdom
"Heaven opened and the water hammered down, reviving the reluctant old well, greenmossing the pigless pigsty, carpet bombing still, tea-colored puddles the way memory bombs still, tea-colored minds."
― Arundhati Roy, The God of Small Things
"Rain didn't make things messy. People did that all on their own."
― Barbara Delinsky, The Secret Between Us
"Don't let the rain drive you to the wrong shelter; the shade can turn out to be your protector and also your destroyer, and sometimes the rain is the perfect protector from the rain."
― Michael Bassey Johnson
"The rain is falling ever harder and all I can hear is the sound of the water. I'm drenched but I can't move."
― Paulo Coelho, Aleph
"I hate it when storm clouds roll in, heralded by dazzling claps of thunder and lightning that boast an ocean of tears. This majestic performance of bad temper manages to overshadow my pathetic attempts at pouting. No one broods like Mother Nature, hence she steals all the attention I was sulking after."
― Richelle E. Goodrich, Smile Anyway: Quotes, Verse, and Grumblings for Every Day of the Year
"It was raining in the small, mountainous country of Llamedos. It was always raining in Llamedos. Rain was the country's main export. It had rain mines."
― Terry Pratchett, Soul Music
"Those who hate rain hate life."
― Dejan Stojanovic
"The Sun after the rain is much beautiful than the Sun before the rain!"
― Mehmet Murat ildan
"The rain continued. It was a hard rain, a perpetual rain, a sweating and steaming rain; it was a mizzle, a downpour, a fountain, a whipping at the eyes, an undertow at the ankles; it was a rain to drown all rains and the memory of rains."
― Ray Bradbury
"When rain and tears are making a trip together, emotions can be coming under pressure. But the fluid bond between the power of nature and the frailty of the soul may also smash the weight of the burden and create a liberating mental flow opening new insights. ("Rainman")"
― Erik Pevernagie
"You pray for rain, you gotta deal with the mud too. That's a part of it."

― Denzel Washington