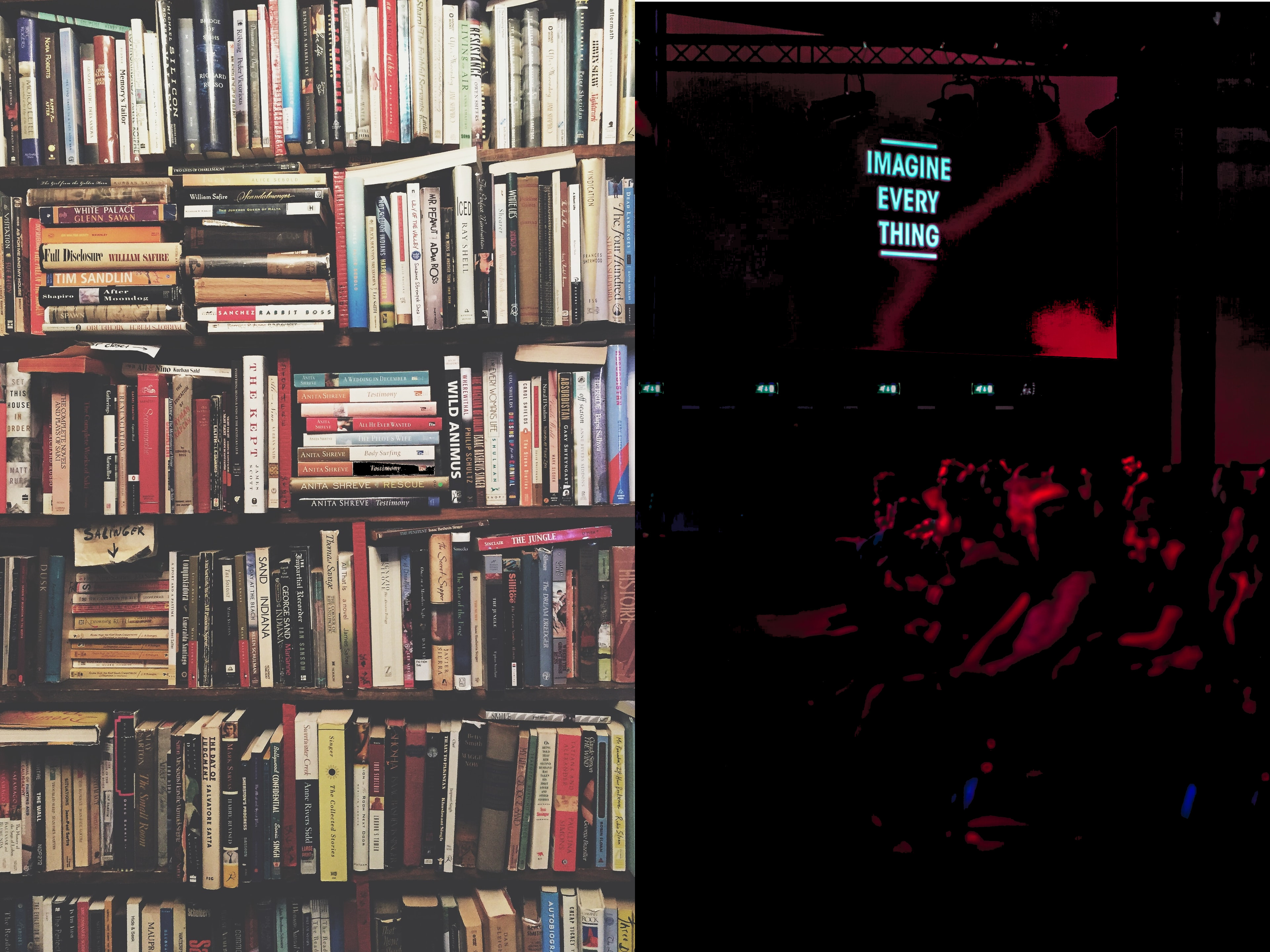 Ansar Manzoor
Relationship Between Books and Cinema: Movies About Literature
Every one of us desired and daydreamed about our favorite books and characters coming to life as children, but none of it came true. What happened was that we continued to grow and adapt, just as literature has and will continue to do. Change is inevitable, as is progress, and thus literature has gone beyond our greatest imaginations. And literature is a form of art that shares stories, fairy tales, chronicles, anecdotes, myths, and legends. This art form takes readers into an out-of-the-ordinary world where almost everything is possible. In the late 17th century and the beginning of the 18th century, literature became a popular form of expression and was widely read. Soon, many forms of expression in art took the world by storm and we were introduced to the three-dimensional world onto a two-dimensional screen. 20th century onwards cinema started getting noticed and became fashionable too. Literature and film share the same goal: to tell a tale but films do with the help of audio and visual effects, animation, costuming, makeup, creative writing, directing, acting, and other techniques. Films and literature grew and assembled together in record time, two wonderful forms of art blended together, and now, in the 21st century, the tie between the two is stronger than ever.
Literature
 Literature is such a vast realm that it is impossible to describe it precisely, as the definition of literature has expanded in recent centuries, but in layman's terms, it is considered an art form in which books and other works written in fiction (short stories, novellas, novels), non-fiction (biographies, manifestos, history, philosophy, religion, and spirituality, etc), poetry, drama, folktale or mythology, etc. Literature is not just penning down words on paper, but a higher form of art, that speaks to us, affects us, is profoundly personal to a reader, and is all-inclusive. It delineates humans, human civilization, and imagination and provides insight into the human milieu all around the world. As mentioned earlier, literature has expanded; from generation to generation it keeps evolving and changing. Every generation has a special canon, for example, Shakespeare, Homer, and Chaucer are a part of the canon of Western literature, and Tagore, Lihari, and Rushdie are part of the canon of Indian literature. Literature is more than just recounting fairy tales or discussing traditional and cultural relics of the ancient order; it is an adventure into an imaginative and unsullied world.
Film
It is also called a movie or motion picture, a form of visual art to portray thoughts, stories, perceptions, emotions, milieu and so many other things. "Cinema", a short form of cinematography, is often used as a reference to "filmmaking". Films allow human expression to be portrayed, communicated, and shared through actions and speech (dialogues) of actors/actresses (characters). Cinematography is artistic, just like literature, it tells a story but through spoken words and visualization. It entails creative visualization and expertise in order to portray stories primarily, personally, and visually. Cinematography is as diverse as literature and includes a variety of films; feature/short films, historical, biographical, silent, documentary, film noir, avant-garde, book-to-film adaptations, etc. The clichéd purpose of films is to entertain the audience but along with that, it also puts across meaning and emotions that capture the minds of the audience and tends to serve a higher purpose than just to entertain. As every form of art goes through evolution, so is the case with films, in mid 20th century the art of cinematography spread out like a wildfire and eventually it lead to Creative Adaptation – turning literary works into films and blowing life into stories by presenting them on a two-dimensional screen.
Two Art forms that collaborate to create and grow together
Since the beginning of the film industry, films and literature have collaborated. It is unclear which story or book was the first to be adapted into a film, but some of the earliest examples come from the work of Georges Melies, who is regarded as the father of many film techniques. He released two adaptations in 1899: Cinderella, based on the Brothers Grimm story of the same name, and King John, the first known film based on Shakespeare's writings (Information source – Wikipedia). Following that, numerous novels were adapted into films, and book-to-film adaptations became popular. As the globe progressed, so did development in the realms of cinema and literature. Books were transformed into a mechanically generated reality by cinema, which spawned a systematized set of sub-genres as well as themes and notions that made films into realistic art, and the two mediums worked in harmony as a result. When two things collaborate to produce something new, it is frequently done on the basis of commonalities and minor distinctions; similarly, there are many common features and differences in cinema and literature.
The main similarity is that both, the script and the book are in written form before the film is created. Films are no different from books in that they have a defined plot and follow a specific genre with several sub-genres. Action, Adventure, Comedy, Crime, Drama, Fantasy, Horror, Mystery, Romance, and Thriller are the most common genres of the two creative forms. Each author and scriptwriter pays close attention to a number of common factors when creating a book and a script: What character knows, feels, thinks about, and says; functionality of character's speech; character and milieu scenography; character subjectivity; as well as narration's significance. Unanimously, when writing dialogue for characters, scriptwriters do not omit imperative declarations, dialogues, phrases, or statements. Instead, they take great effort to ensure that they are accurately captured in the film.
When a book is turned into a film, the screenplay is frequently experimented with and given slight or substantial changes. The primary distinction between literature and cinema is that cinema necessitates a greater physical and mental effort than literature. When writing a book, the author only needs to imagine it and write it down; however, when it is adapted into a film, the director, producer, and screenplay writer must collaborate to create the scenes, create the special effects, and, of course, find the suitable actors/actresses for each major and minor role. Other differentiating features include the concepts of "narrator's voice" and "point of view," which create hurdles when the book is adapted into a film and misleads or is botched during the filming process. Character perception, attitude, or interest are frequently altered or modified, yet they are sometimes too powerful to handle when exhibited on screen. A book's author, editor, and publisher work together, but a film's director, producers, scriptwriters, music composers, cinematographers, editors, and distributors all have to work together and be on the same page in order for the film to be successful and profitable. Not technically a distinction, but more of a barrier is budget; the budget for making a film is frequently a source of contention, resulting in the deletion of brilliant plot lines, characters, scenes, and many other things.
Some of the Greatest Movie Adaptations of Books
Here are a handful of the best and most beloved books that have been adapted into film masterpieces. Not only are these must-read books but must-watch films too.
 

The Godfather Trilogy (1972, 1974)

Mario Puzo's 1969 novel 

The Godfather

 inspired Francis Ford Coppola to direct the film series of the same name. Overall, the three films garnered a total of 28, including nine Oscar nominations. As a result of its movie office success, 

The Godfather Trilogy

is often cited as one of the greatest trilogies ever created.

Schindler's List (1993)


This is, without a doubt, one of the most visually stunning war films ever produced. With a filmmaker like Steven Spielberg at the helm and an adaptation of Thomas Keneally's Booker Prize-winning novel Schindler's Ark, this black and white film is spine-chilling and extraordinary. It received 12 Academy Award nominations and won seven of them, including Best Picture and Best Director.


The Shawshank Redemption (1994)

 Frank Darabont directed the American drama film based on Stephen King's novella 

Rita Hayworth and Shawshank Redemption

. When people think of prison escape movies, 

The Shawshank Redemption

 is perchance the first one that springs to mind. It is frequently recognized as one of the "

All-Time Great Movies"

, a film with passionate and superb acting, as well as a tense ending.


Fight Club (1999)

When it comes to cult classic adaptations, 

Fight Club

is one of the most well-known. It is a frightening and violent picture based on a book of the same name published in 1966 by Chuck Palahniuk, winner of the Oregon Book Award. David Fincher's creativity delivered one of cinema's most influential works even if it was financially unsuccessful at the time, but it is now unanimously acknowledged as one of the best films, with a devoted fan base.


The Lord of the Rings Trilogy (2001, 2003)

The film is based on the same-named book by J.R.R. Tolkien, dubbed the "

Father of Modern Fantasy Literature".

Peter Jackson's epic fantasy adventure trilogy was the catalyst for the pop-cultural phenomena. Tolkien wrote a fantasy literature masterpiece, and Jackson molded it into one of those once-in-a-lifetime trilogies. Not only did it gross over $2 billion at the box office, but it is also one of the most decorated film series in cinema history, having received 475 accolades (including 11 Oscars) from 800 nominations.

Some of the Most Prestigious Awards in Movies and Literature
Movies
The Oscars

Palme D'or – The Cannes International Film Festival 

Bafta Awards

Golden Lion – Venice Film Festival

Golden Globes
Literature
Nobel Prize for Literature

Man Booker Prize

The Pulitzer Prize

Neustadt International Prize for Literature

Costa Book Awards
Conclusion
As previously stated, films and literature expanded and merged, giving rise to book-to-film adaptations, a fusion of two great forms of art that brings literary and cinema aficionados together to witness a fantastic amalgamation portrayed on a two-dimensional screen. Before book adaptations, one could only read books and imagine them; later, when cinemas came into play, one could witness the art of moving pictures; however, the combination and collaboration of both art forms has landed us in a creative, exploratory, and unsullied realm known as book-to-film adaptation. Regardless of the discrepancies and dissatisfied grumpy fans and readers, one cannot deny that films have provided a platform for books to be sculpted into reality and fulfilled our need to see our favorite novels and characters in actuality. Not only are book-to-film adaptations amusing, but they are also imperative, insightful, artistic, and entrepreneurial due to the use of auditory and visual elements. I'd like to end this article with a statement from Stephen King: "Books and movies are like apples and oranges. They both are fruit, but taste completely different."
Sources of Information & References