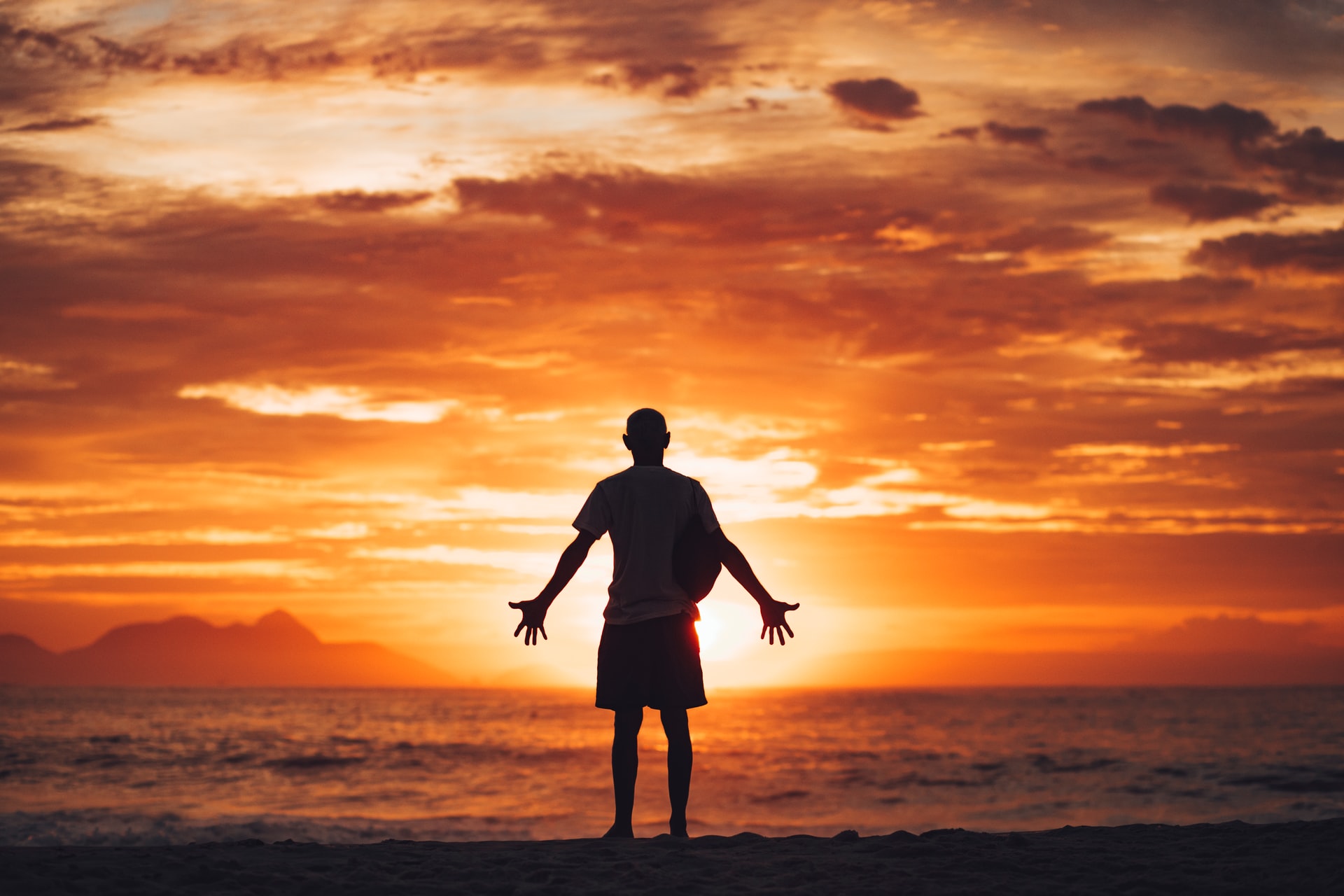 Gratitude. Such a small word but such great significance. Some of us are ungrateful our whole lives. Finding faults, resenting, getting angry, getting overwhelmed and frustrated, and at the end hating life more and more as we grow until some of us get so depressed that we want to...... end it. Hopefully, most of us are not that unhappy with life but life overwhelms us all and we find ourselves fighting with resentment, anger, anxiety, and depression.
It is then a great surprise for many of us to find people who see beauty in every imperfection, who when they see someone or something flowering and reaching its full potential, they are happy for it, challenges and hurdles make them discover new qualities and strengths that they never thought they had, and at the end, they are grateful and happy for what life has offered them.
How to have this positive and fulfilling perspective on life? How to be happier with what we have? How to enjoy more success? 
The obvious answer seems to be to make more money, buy a bigger house, get a better life partner and do whatever else you wish and want. This is the idea of success for most people but sadly this ideal is not possible for everyone. And even if we have reached it what is the guarantee that life will be happier? 
There is none. We read often of people with lots of fame and success doing suicide and drug abuse. Why?
Nature has not made happiness so rare that only a few rich and successful people can enjoy it. Happiness is abundunt. It is with all of us and all around us. Only we need to see it and appreciate it. We need some gratitude. A more grateful heart can enjoy this life more and live a more fulfilling life. 
Here are some great quotes about being grateful in life. I hope you enjoy them and find more gratitude and happiness.  
"Being grateful does not mean that everything is necessarily good. It just means that you can accept it as a gift."
― Roy T. Bennett
"Everyone enjoys being acknowledged and appreciated. Sometimes even the simplest act of gratitude can change someone's entire day. Take the time to recognize and value the people around you and appreciate those who make a difference in your lives."
― Roy T. Bennett
"When you are grateful, fear disappears and abundance appears."
― Anthony Robbins
"As the years pass, I am coming more and more to understand that it is the common, everyday blessings of our common everyday lives for which we should be particularly grateful. They are the things that fill our lives with comfort and our hearts with gladness -- just the pure air to breathe and the strength to breath it; just warmth and shelter and home folks; just plain food that gives us strength; the bright sunshine on a cold day; and a cool breeze when the day is warm."
― Laura Ingalls Wilder, Writings to Young Women from Laura Ingalls Wilder: On Wisdom and Virtues 
"I have been finding treasures in places I did not want to search. I have been hearing wisdom from tongues I did not want to listen. I have been finding beauty where I did not want to look. And I have learned so much from journeys I did not want to take. Forgive me, O Gracious One; for I have been closing my ears and eyes for too long. I have learned that miracles are only called miracles because they are often witnessed by only those who can can see through all of life's illusions. I am ready to see what really exists on other side, what exists behind the blinds, and taste all the ugly fruit instead of all that looks right, plump and ripe."
― Suzy Kassem, Rise Up and Salute the Sun: The Writings of Suzy Kassem
"A little "thank you" that you will say to someone for a "little favour" shown to you is a key to unlock the doors that hide unseen "greater favours". Learn to say "thank you" and why not?"
― Israelmore Ayivor
"Gratitude is one of the most powerful human emotions. Once expressed, it changes attitude, brightens outlook, and broadens our perspective."
― Germany Kent
"Being grateful all the time isn't easy. But it's when you feel least thankful
that you are most in need of what gratitude can give you: perspective.
Gratitude can transform any situation. It alters your vibration, moving you
from negative energy to positive. It's the quickest, easiest, most powerful
way to effect change in your life—this I know for sure."
― Oprah Winfrey, What I Know for Sure
"It is better to dwell on the beautiful things in life than the negative."
― Lailah Gifty Akita, Think Great: Be Great!
"Focus on an ocean of positives, not a puddle of negatives."
― Kevin Ansbro
"It makes no difference where you go, there you are. And it makes no difference what you have, there's always more to want. Until you are happy with who you are, you will never be happy because of what you have."
― Zig Ziglar
"We are all mysteries, to those who love us and also to ourselves. When you find someone who embraces you, loves and desires you every moment, accepts your mysteries and flaws without judgement, you've struck gold. How delicious is the thought that this mysterious complex creature, chooses to share a life with you?

Too many of us undervalue ourselves by digging too deep into the mistakes we have made or dwelling on when we failed at something like relationships, responsibilities, careers, whatever it might be. All those experiences make up the mystery and story of who we are. We are complex beings, all together in this fucked up but beautiful world.

Whatever the mistakes or failures of someone's murky past that leads them to your door should be experiences you are grateful for and that is cause for celebration. All of us have had experiences, good and bad, and those make up the intricate tapestry of who we are.

I often feel insecure in so many ways, fragile and easily broken even when I know that is only a self-defeating perception that sometimes rears its ugly head. I am doing what I love, and deeply in love with someone with whom I want to share my future and write our own magical mystery story.

I guess what I am trying to say is don't dig so deep that you end up cutting your roots and the lifeblood that feeds and makes you. Match your energy and vibration with what you envision. Believe. You deserve love and success, so go for it."
― Riitta Klint
"Ungrateful people forget what they are not grateful for."
― Ana Monnar, Express Yourself 101 Kaleidoscope Volume 3
"Gratitude helps you to grow and expand; gratitude brings JOY and laughter into your life and into the lives of all those around you."
― Eileen Caddy, Opening Doors Within 
"If tragedy never entered our lives, we wouldn't appreciate the magic."
― Nikki Rowe
"Making the ungrateful grateful will bring tears to your eyes, tears of blood bleeding from the heart."
― Ana Monnar
"Ingratitude to God does not rely only on our refusal to give the verbal thanksgiving due to Him, but also recides in our inability to appreciate his gifts and potentials in us by leaving them untapped."
― Israelmore Ayivor
"Let us give thanks for our shadows
for they are there in the first place
because of the presence of light."
― Kamand Kojouri
"Even when you don't see Him working, He's busy working on your behalf. Forever grateful for God's grace!"
― Yvonne Pierre, The Day My Soul Cried: A Memoir
"Give your all to every experience, feel it breathe it appreciate it, nothing lasts forever, when it's gone you'll remember the feeling it once gave you and sometimes that's enough."
― Nikki Rowe 
"You can
Lose a child
Or a parent,
The love of your life,
A good job,
A game,
A deal,
A bet,
An idea,
Your favorite thing,
Money,
Your best friend,
A moment,
An opportunity,
A chance,
Your keys,
Your mind,
Your health,
Your identity,
Your virginity,
Your religion,
Your shirt,
Your license,
ID or Passport,
Phone or phone number,
Hope,
Faith,
Luck,
Your pride,
Or your house,
And feel like
You've lost everything,
And keep on losing.

Stop
Counting losses
And start counting your blessings.
Only then,
Will you discover that losses
Are easier to point out
And count
Than blessings,
And that blessings
Outnumber your losses
For they are truly
Immeasurable.

It is only normal that
People count losses with
Their minds,
And ignore
To count blessings
With the graciousness
Of their hearts."
― Suzy Kassem, Rise Up and Salute the Sun: The Writings of Suzy Kassem
"Express gratitude for the greatness of small things."
― Richie Norton 
"The lotus flower is born in a swamp. It grows up surrounded by filthy slough and yet manages to bloom into magnificence. But it does not fall prey to pride. Nor is it ashamed of the swamp. It lives out its life in its humble home while radiating beauty and being grateful."
― Rajesh`
"Miracles only for those who want to try and be grateful"
― Aditia Rinaldi
"Count your blessings as the more you are grateful for what you have the more there is to be grateful for."
― Pravin Agarwal
"Be grateful for what you already have while you pursue what you want."
― Roy Bennett
"The more grateful we are, the more we practice this in our everyday lives, the more connected we become to the universe around us."
― Stephen Richards
"Whatever happens, I'm glad we met. You've made the past few days more bearable for me. Thank you."
― Jason Medina, The Manhattanville Incident: An Undead Novel 
"You will never have enough until you are grateful for what you have."
― Richelle E. Goodrich
"You are not blessed until you recognize that you are blessed."
― Toyin Omofoye
"It sounds weird to be grateful for things that don't turn out the way you want them to. But I realised that there were many blessings that I'm grateful for today which I wouldn't have had if I did not have to make a few u-turns and detours along the way."
― Mizi Wahid
"Remember who was there for you when you needed help."
― Mitta Xinindlu
"Life is full of blessings we take for granted. Yet so often we dwell on what we don't have. Appreciate what you already have and be grateful."
― Napz Cherub Pellazo
"Usually, that which could have been better could have been worse."
― Mokokoma Mokhonoana
"They say the glass is half full or half empty, well let me tell you I'm just glad there's a glass at all."
― Claire Auricomous
"Gratitude produces happiness because it focuses your thoughts on the positive. And when you are in a positive mental attitude, you bring more good things to your life to be grateful for"
― Caro Briones, The Extraterrestrial Girl
"It is not happiness that makes us grateful, it's gratefulness that makes us happy."
― Dalai Lama XIV
"The more grateful I am, the more beauty I see."
― Mary Davis
"A grateful heart is a beginning of greatness. It is an expression of humility. It is a foundation for the development of such virtues as prayer, faith, courage, contentment, happiness, love, and well-being"
― James E. Faust
"Those things you have but stupidly don't appreciate
Are on someone else's wish list …
Be grateful!"
― Samiha Totanji
"So are you willing to spend your numbered days to settle in a bad relationship? To spend time at a job that you never loved? To waste your days reminiscing the past, or to hold grudges for people who did you wrong? None of these things are worth sacrificing your life for. When you see life for the fragile gift it is, you would not want to spend even a second resenting or being frustrated."
― Mridula Singh, Live More: Magic Begins with You
"Abundance in life flows from grace and how grateful we are to our present surroundings on Earth."
― Nozer Kanga
"Life is precious; good friends are not numerous,
but their actions are significant. Cherish them. Feel
grateful for them. Show them that you appreciate
them. And do all this as often as possible. Be grateful for the bad ones too, as they helped you see the good ones for who they were. I am grateful for any friend that has come into my life and proved to be in the bad category, because it helped me to recognize and appreciate the good ones."
― Nico J. Genes, ADHD: LIFE IS BEAUTIFUL
"Look up at the sky and be grateful for being a tiny little fragment of a beautiful blue planet."
― Nitya Prakash
"The truth is – no matter how "self-made" you think you are, you are really made by many who have invested in your life.
Be known as a thankful and grateful person… and be known as the person that is investing in others to build them up, as well. It's your way of paying back the debt that others have invested in you."
― Josh Hatcher
"The best revenge is to live well, so live well my warrior sisters, live well!"
― Tara Hopko, Let Me Get This Off My Chest
"A Lion that hunts for survival in the jungle does not envy the one being fed in a zoo"
― Suhaib Rumi
"If I continually focus on what I don't have, my life will always be completely empty despite the fact that it's completely full."
― Craig D. Lounsbrough
"It is easy to say I am thankful for the sweet and beautiful things in life: flower gardens, ice cream cones, diamond rings, dances under moonlight, children's laughter, birdsongs, and the like. The challenge is recognizing things of value in the dark, sour, uglier parts of life. But if you look hard enough, you will find that even tough times offer pearls worthy of gratitude."
― Richelle E. Goodrich
"Let's be grateful to all those who came in before us. Grateful to all those men and women, young and old alike, who paved the path forward for us, brick by brick. To those men and women who marched across the bridge in Selma on that great day, those men and women who rallied behind the Gandhis and the Mandelas every single time they were needed, to those men and women who stood up for voting rights and civil rights and gay rights and equality and justice and a free world, those men and women who invented the future by inventing things that fundamentally changed the world from the electricity to vaccinations, from airplanes to birth control pills, from the printing press to the internet."
― Sharad Vivek Sagar